Increase Your Productivity: GuangDuang Mechanical Press For Sale
The GuangDuang Mechanical Press is a mechanical press used to press and flatten products at high temperatures. The machine can be used for pressing, flattening, and giving shape to different types of plastic or metal products. It is suitable for making various kinds of plastic bottles, metal cans, metal plates, and so on. The machine can be installed in small workshops and factories, which are enough to make all the parts needed by customers.
GuangDuang Mechanical Press For Sale
The Open Back Power Press GPA Series adopts a press frame design of high rigidity and steel plate welding of high quality. It employs a transmission center that is similar to a machining center to ensure accuracy and stability, as well as die height adjustment accuracy reaching up to 0.1 m for safe, convenient, and reliable adjustment. Gear pair and sliding pair are smooth, high-precision, and of low noise after quenching and precision grinding.
The body of the press is made of a heavy-duty steel plate which is then welded together to form an extremely strong structure. The gear train has been constructed with precision bearings allowing for smooth operation with minimal noise output. The bodywork is finished in a durable powder coat coating giving it both strength and resistance against corrosion while also giving it a stylish look that will complement even the most modern workshop environment.
The Open Back Power Press GPA Series will provide you with the best performance in your production line because it has an exceptionally high degree of accuracy. With its large base frame and adjustable die holder, you can easily adjust the die holder height according to your needs while maintaining a stable platform for accurate cutting or stamping work.
The Fastest Mechanical Press Presses Money Can Buy!
The Open Back Power Press GPA Series adopts an integrated spindle head design with a large bearing area and high rigidity that can bear heavy loads. The front bearing plate is made of high-strength aluminum alloy for long service life. The spindle head is compatible with many different types of production lines due to its modular structure design.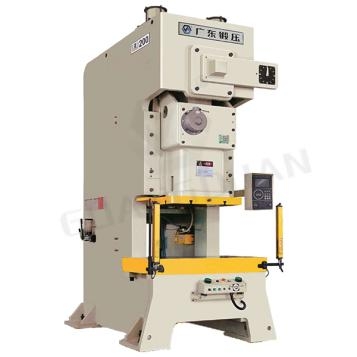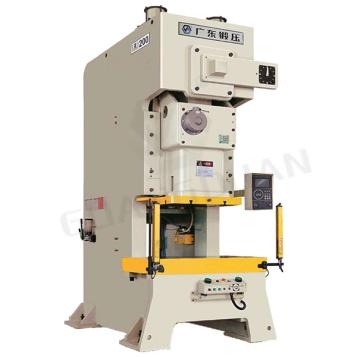 The mechanical press adopts the most advanced technology to ensure that the quality of the product is greatly improved. The mechanical press is an indispensable tool for processing large-sized parts or complex components with complex shapes.
The machine is equipped with a new generation spring system which is more powerful than the previous model without increasing the weight of the machine. The machine has an open-back design with an optional cover available for additional protection from dust and debris. It also has an optional tool changer which allows for a quick exchange of tools without having to open up the entire machine.
Reasons You Should Buy GuangDuan Mechanical Press For Sale
The transmission design adopts constant speed rotation with an open back for the main shaft, which can guarantee stable operation even when working with heavy materials. The main motor is mounted on a steel plate structure with an open-back design that can prevent interference from dust or other foreign matter during operation.
The gearbox has been equipped with a big reduction ratio and small reduction ratio gear train system to ensure good performance in high-speed operation as well as in heavy material processing.
The core structure adopts the double-sided structure design with a differential pressure control device on top of it which can automatically adjust the pressure in the frame according to to die pressure required by the machine tool being used; this feature provides stable operation regardless of whether you are working on large or small dies with different bore sizes.
Need A Mechanical Press? Here Is the Option You Can't Ignore
If you need a mechanical press, then you should definitely look into the Open Back Power Press GPA Series. The main structure consists of a high-rigidity gearbox and sliding gear pair, which can ensure precise transmission performance during transmission operation. The transmission center adopts a gear design with three sets of gears driven by one shaft (second axis) so that the rotation speed is not affected by load changes during operation.
The Open Back Power Press GPA Series has an excellent performance in terms of strength and durability. The large diameter pressing surface makes it possible to efficiently apply force with a large force against the workpiece to achieve high-speed pressing work at low speed; the large eccentricity ratio increases the rigidity of the press frame over time so that it can reduce the influence of wear on the inner wall of the die cavity; etc., increasing service life.
This series adopts hydraulic system control equipment to automatically adjust the hydraulic pressure according to the workpiece weight change caused by cutting force variation or other factors, achieving more stable transmission performance in different working conditions.
All You Need To Know About GuangDuan Mechanical Press
GuangDuan Mechanical Press is a professional manufacturer of mechanical presses in China. We have been committed to the research, development, and production of equipment used in metal processing and molding. We have established a good reputation among our customers all over the world by providing high-quality products and reasonable prices.
GuangDuan Mechanical Presses are designed to be used by professionals in a wide range of industries including automotive, electronics assembly, appliance manufacturing, medical device manufacturing, and other fields where precision machining is required.
GuangDuan Mechanical Press has been providing technical support to customers all over the world for over 65 years. Our company is committed to providing outstanding customer service through our experienced sales staff, trained engineers, and excellent technical support team.
Concluding Remarks
GuangDuang Mechanical Press is a well-known brand in China, is specialized in producing the most professional and high-performance mechanical presses for the industry. This industrial machine is well-known for its high quality, low price, easy operation, and good performance.
CONTACT US


Guangdong Metal Forming Machine Works Co., Ltd.
We are always providing our customers with reliable products and considerate services.
If you would like to keep touch with us directly, please go to contact us