TECHNICAL ADVANTAGES
1. Three Dimensional Design
Adopt international high-end design software and data management system to build a perfect digital R&D platform.
We fully adopt SOLIDWORKS 3D software for product development, subdivide products by functional components, adopt modularization, serialization and generalization design concepts to speed up design response, improve design quality, optimize product costs and improve product market competitiveness.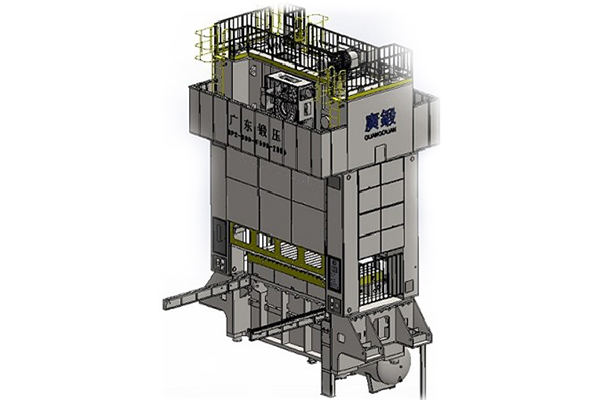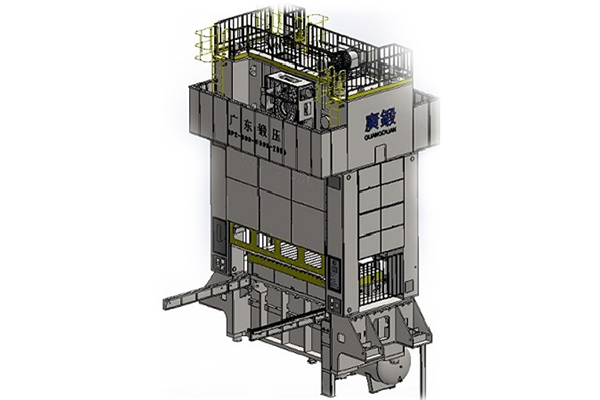 Taking advantage of the regional advantages, we have cooperated closely and deeply with the R&D teams of universities such as South China University of Technology and Guangdong University of Technology, especially developing software related to rod system optimization, accuracy analysis, and dynamics analysis for multi-link presses.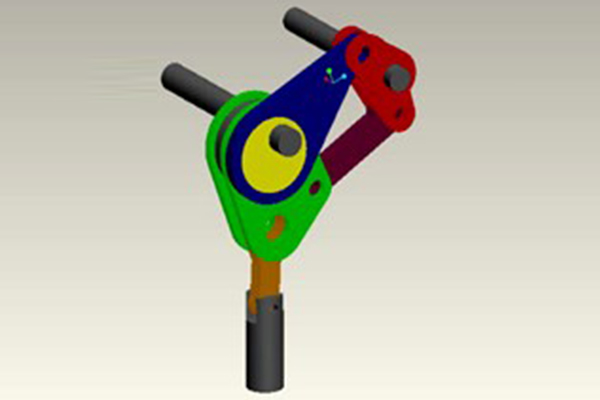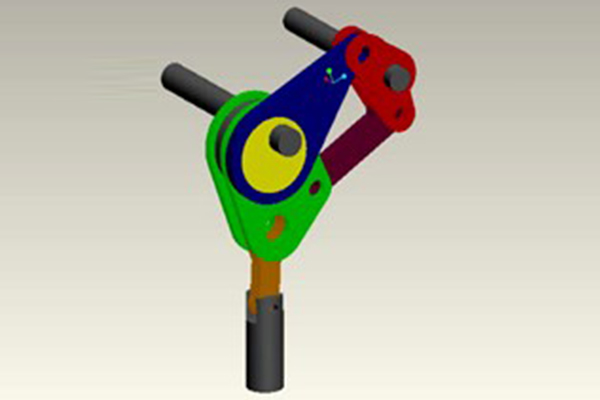 Eight-link Mechanism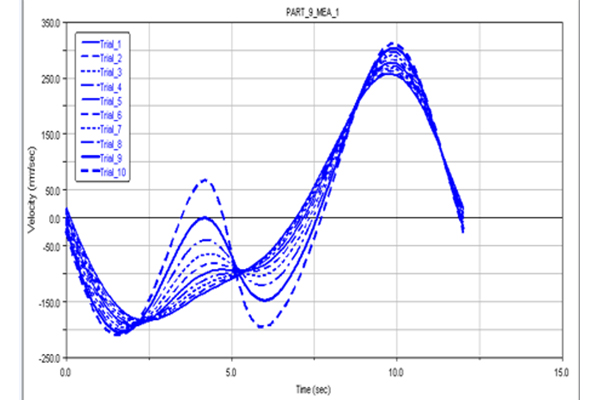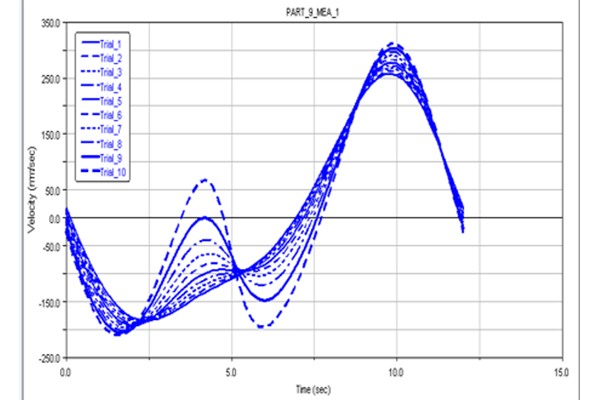 Rod System Analysis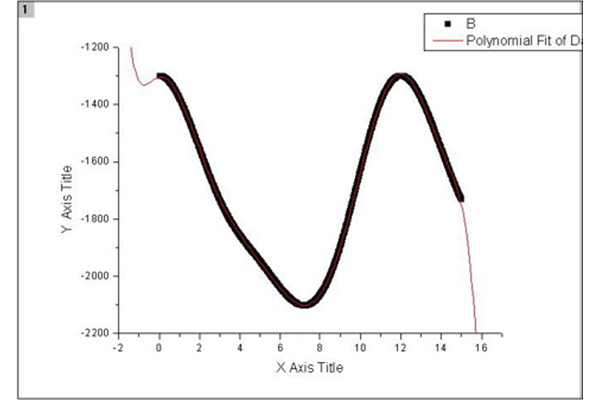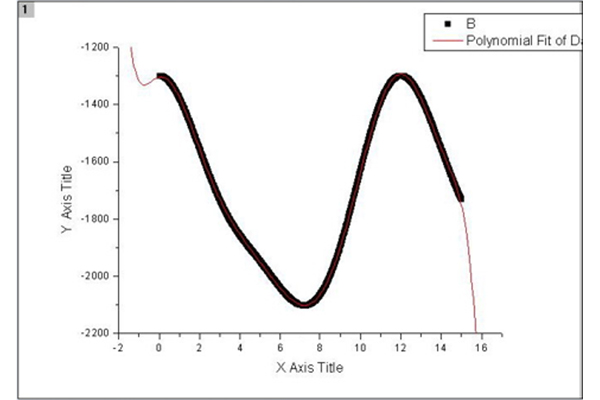 Motion Fitting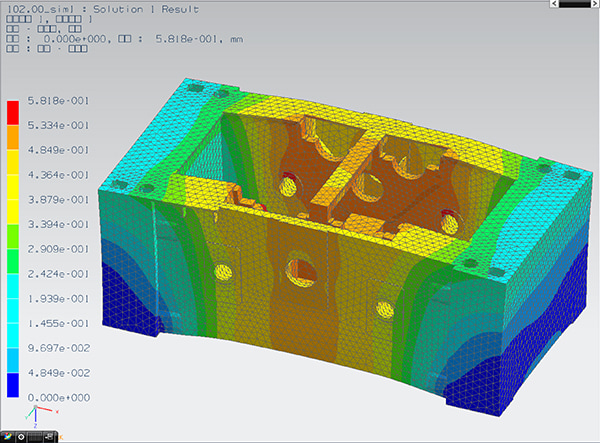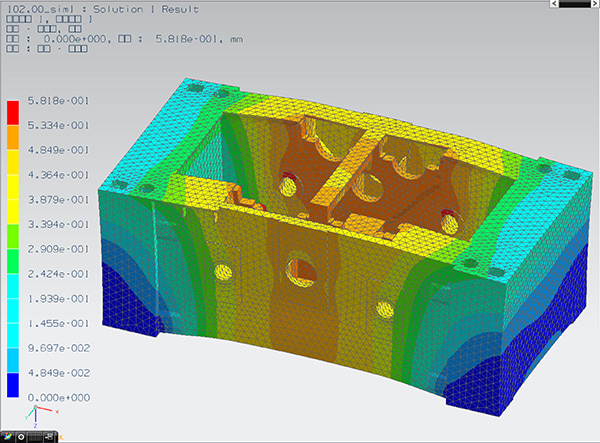 ANSYS finite element analysis software is used to analyze the force of the main welding parts, optimize the structure of the welding parts, improve the rigidity and accuracy of the whole machine, and ensure that the press can maintain good accuracy even after long-term stamping operation.
Large presses can realize one-touch quick die change technology, the shortest die change time is less than 3 minutes, which increases production efficiency, improves workers' working environment and enhances factory intelligence.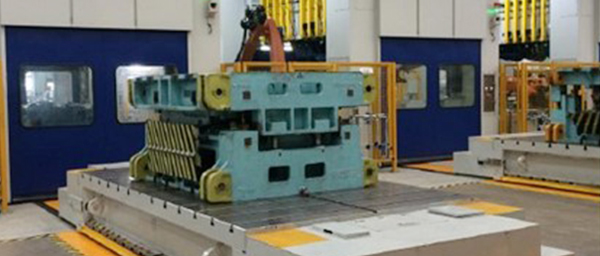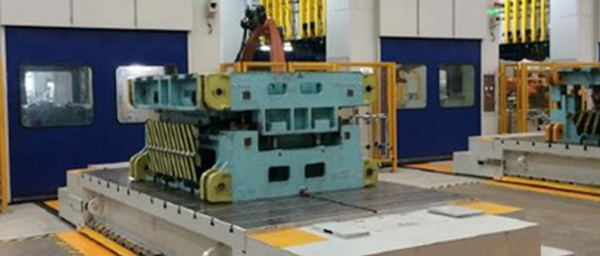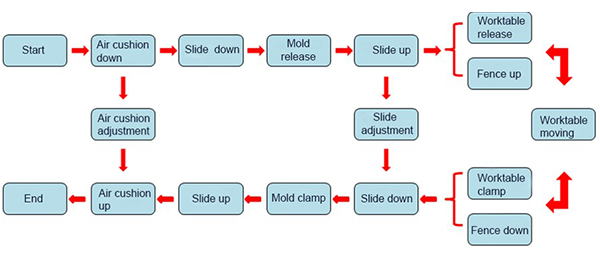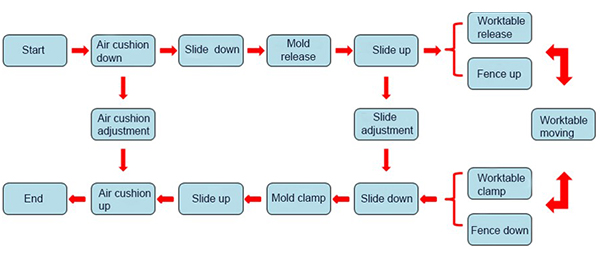 Quick Mold Change Flow Chart
2. Product Information Technology
Example: In the customer's production line, a total of 5 presses are connected to the production line, and the stamped parts are continuously pressed by 5 presses to form finished products (or semi-finished products). Each press is equipped with a Mitsubishi FX-3GA PLC and a touch screen. In order to realize the line function, press #1 is defined as the main control machine.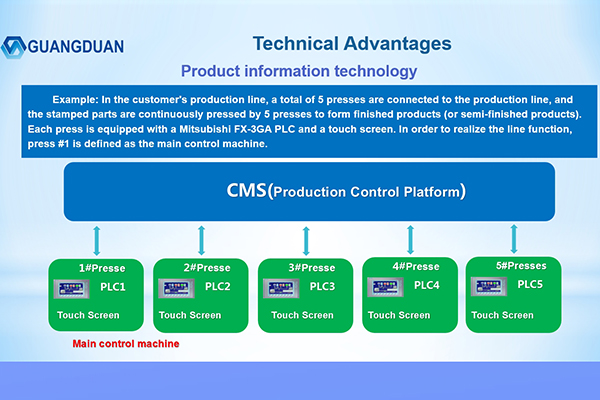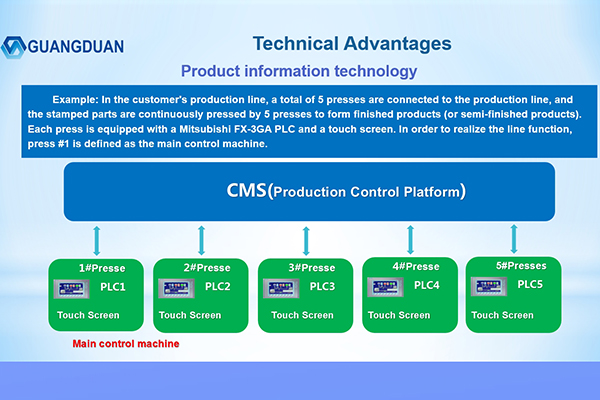 Product communication, in addition to the wide forging CMS system networking, also  can cooperate with the customer's MES system to provide their required equipment status data exchange of data.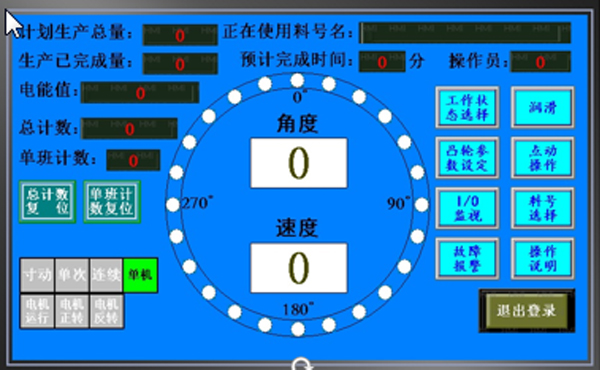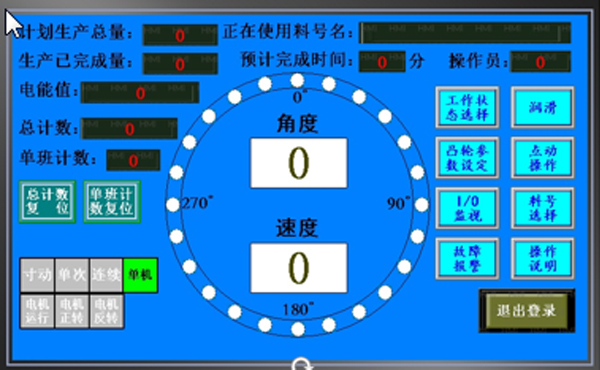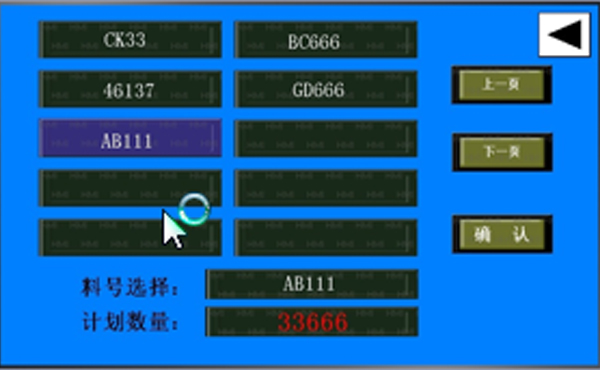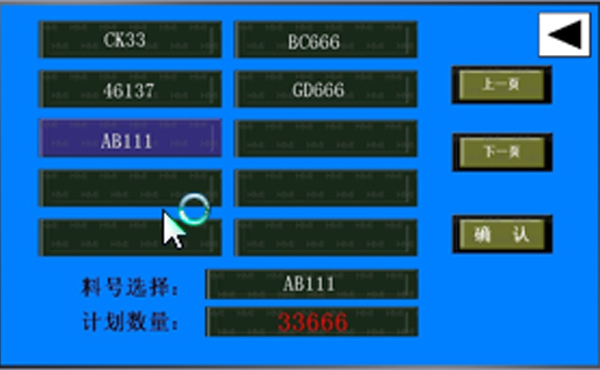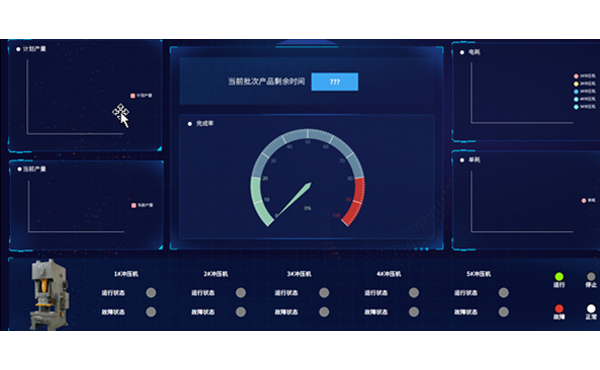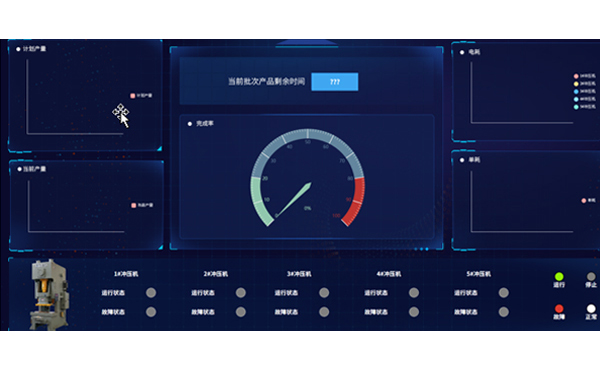 EQUIPMENT ADVANTAGES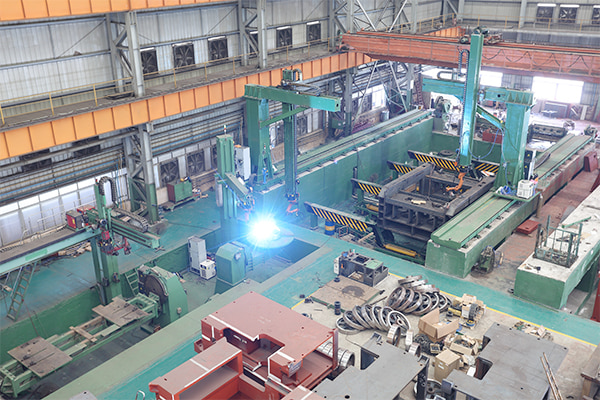 Welding Robot
The welding workshop uses welding robots to automatically weld large parts.
Maximum Weight of Workpiece: 30 tons
Effective Travel: X-axis: 6000 mm, Y-axis: 2000 mm, Z-axis: 1500mm
Maximum Length of Workpiece: 10000mm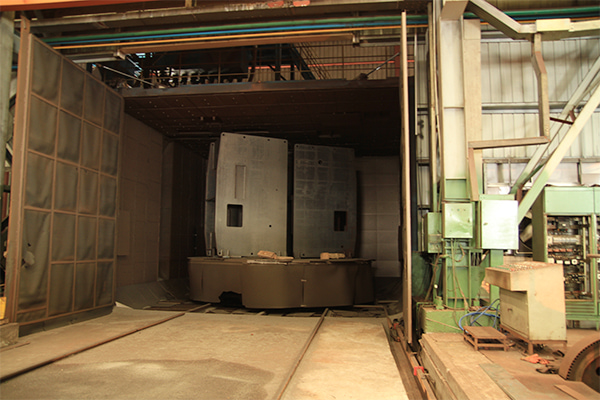 Large Chamber Type Rotary Table Shot Blasting Machine
Inner Volume of Shot Blasting Machine: φ7000×H 5500
Maximum Weight of Workpiece: 80 tons
Annealing Furnace Volume: W3600×H5500×D8000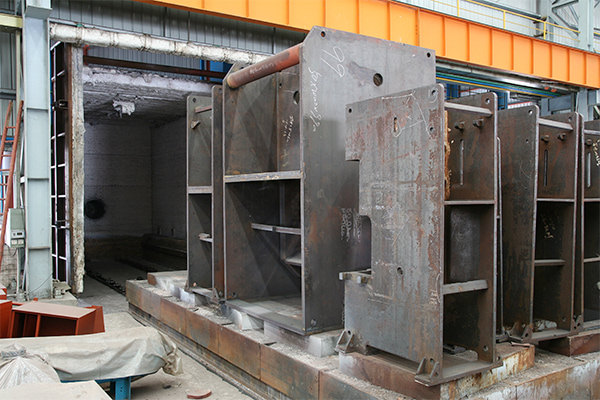 Large Annealing Furnace
Inner Volume of Shot Blasting Machine: φ7000×H 5500
Maximum Weight of Workpiece: 80 tons
Annealing Furnace Volume: W3600×H5500×D8000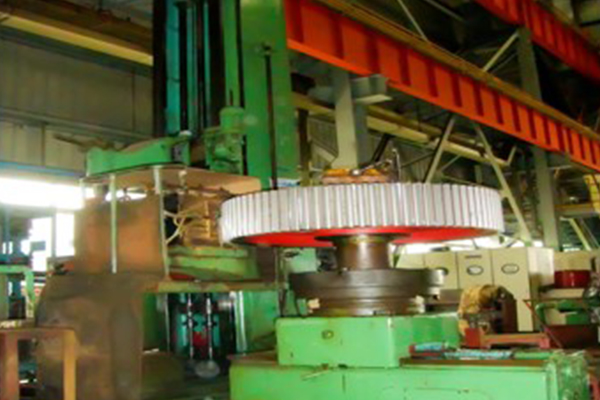 Medium Frequency Induction Heating Equipment
Maximum Length of Quenched Workpiece: 2400mm
Maximum Diameter of Quenched Workpiece: 500mm on spindle
Worktable: 2000mm
Maximum Weight of Quenched Workpiece: 1500kg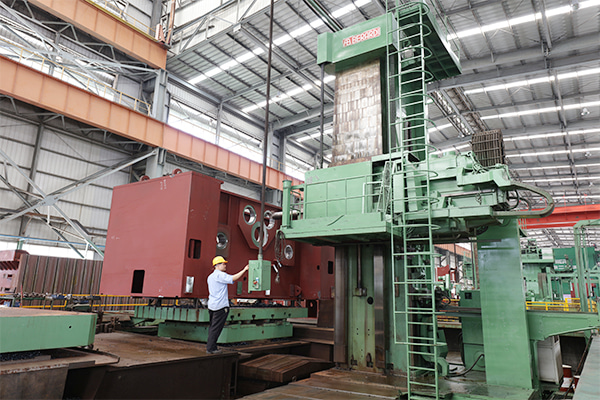 Large-sized CNC Boring and Milling Machine
Using large CNC floor boring and milling machine to process the upper beam of the press.
Spindle Diameter: 250mm
Spindle X-direction Displacement: 4150mm
Spindle Y-direction Displacement: 8000mm
Size of Working Table: 4000×4000mm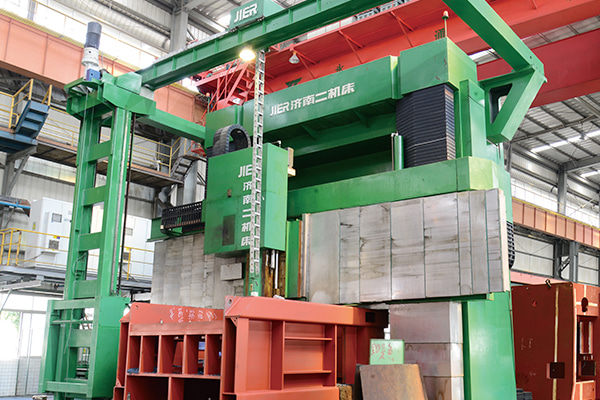 Large CNC Moving Beam Gantry Boring and Milling Machine
Large CNC gantry boring and milling machine is used to process large parts.
X-axis Travel: 12500mm
Y-axis Travel: 5800mm
Gantry Width: 4600mm
Table Size: 4000×12000mm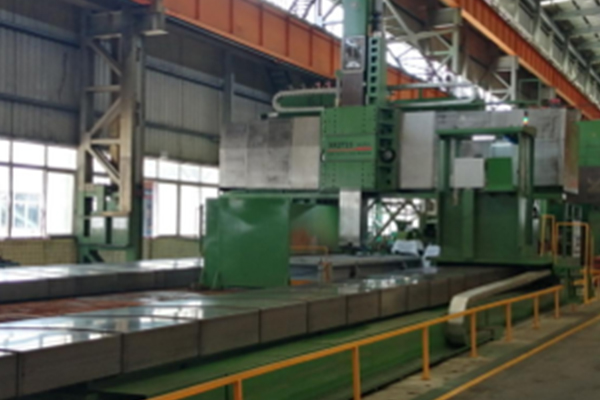 Large CNC Gantry Type Milling and Boring Machine
The use of large CNC gantry boring and milling machine processing base.
Table Plate Table Width: 2500mm
Length of Working Table: 15000mm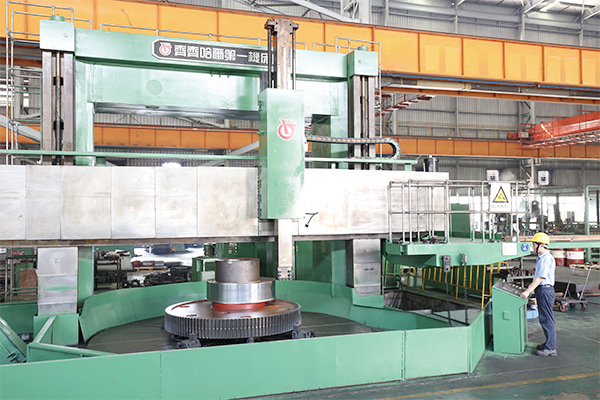 5m Digital Control Crane
Machining of eccentric gears and large flywheels with large CNC vertical lathes.
Maximum Rotating Diameter: 5000mm
Maximum Processing Height: 3150mm
Max. Working Weight: 32 tons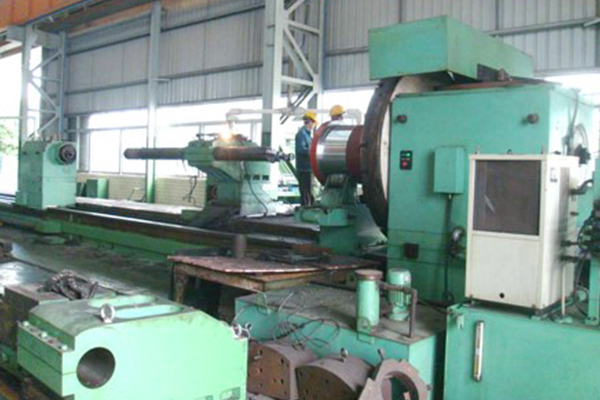 CNC Heavy-duty Horizontal Lathe
Maximum Swing Diameter on Bed: Φ2000mm
Maximum Rotation Diameter of Over Tool Holder: Φ1600mm
Max. Workpiece length: 12000mm
Max. Workpiece Weight: 20t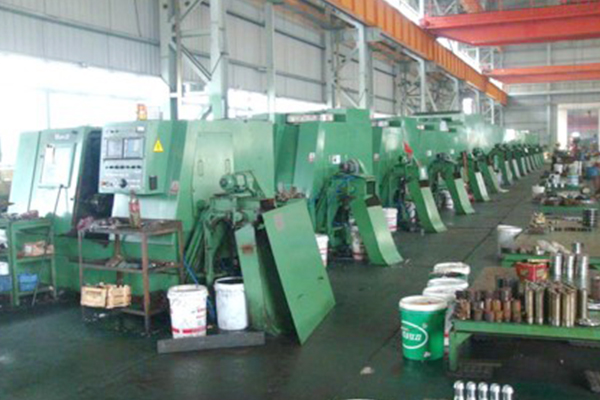 CNC Lathe
Max. Cutting Diameter: 0 ~1000mm
Maximum Longitudinal Stroke: 1255 ~3000mm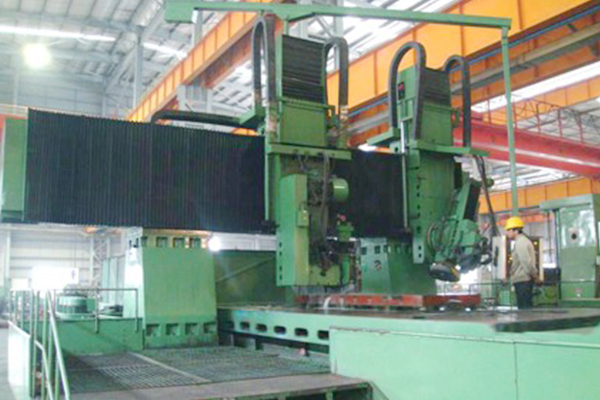 CNC Gantry Type Surface Grinding Machine
Precision grinding of guide rails and table planes.
Width of Working Table: 2500mm
Table Length: 6000mm
Maximum Longitudinal Travel of Table: 6000mm
Max. Grinding Workpiece Size (L×W×H): 6000×3050×1200mm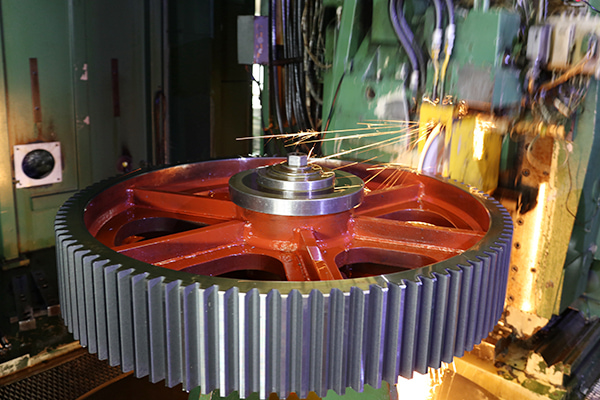 German Gear Grinding Machine
Precision grinding of gears by CNC gear grinding machine.
Max. Workpiece/Diameter: 2500mm
Max. Module of Workpiece: 25mm
Maximum/Minimum Mumber of Teeth to Be Added: 250/10
Max. Worktable Weight: 4000kg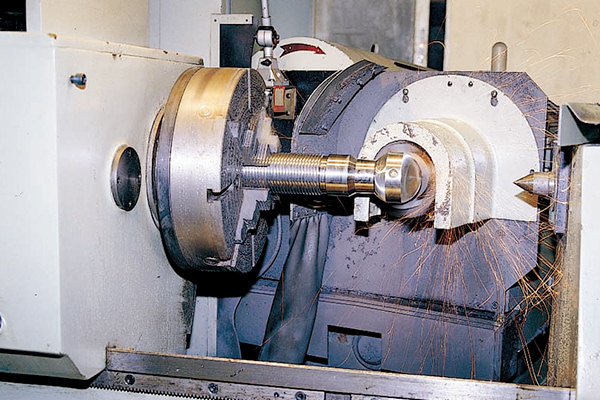 CNC Ball Head Grinding Machine
The nitride ball screw is precision ground by a special ball grinding machine and thread grinding machine.
Max. Workpiece Diameter: 320mm
Max. Workpiece Length: 1000mm
Max. Diameter of Threads That Can Be Ground: 300mm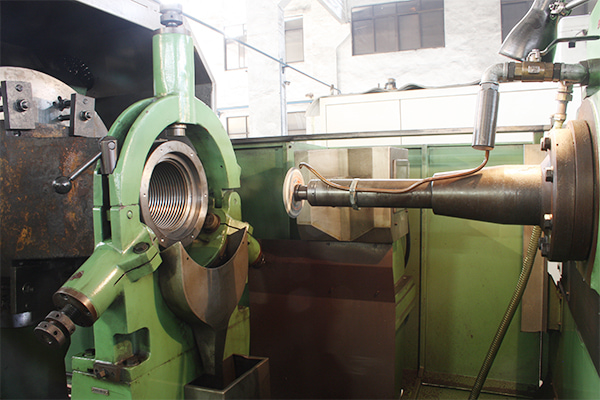 CNC Internal Screw Grinding Machine
Max. Grinding Internal Thread Diameter: 200mm
Max. Workpiece Length: 1000mm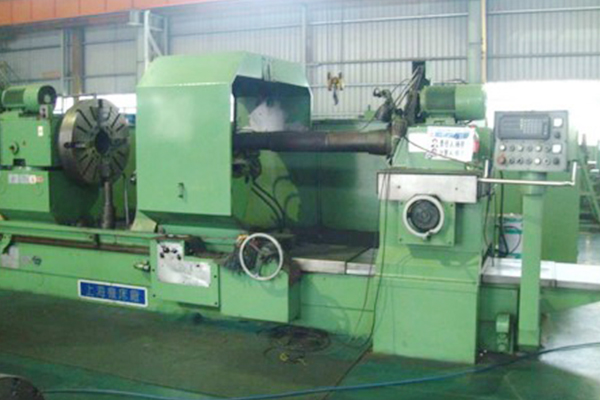 Deep Hole Internal Grinding Machine
Internal thread grinding by deep hole internal grinding machine.
Max. Workpiece Diameter: 400mm
Max. Grinding Depth: 1100mm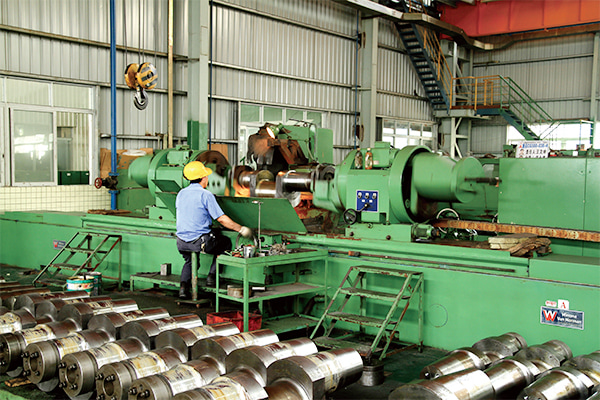 CNC Crankshaft Grinding Machine
Crankshaft grinding by crankshaft grinding machine.
Maximum Rotary Diameter: 1000mm
Max. Workpiece Length: 6000mm
QUALITY CONTROL
Italy Coordinate Measuring Machine
Measuring Range: 5m long * 2.5m wide * 2.5m high
Maximum Load Weight: 45 tons
Measuring Accuracy: ±0.004mm
Swiss Laser Tracker
The Detection Accuracy Reaches: 15um±6um/m
It is the highest precision laser tracker at present.
Various Types of Precision Testing Instruments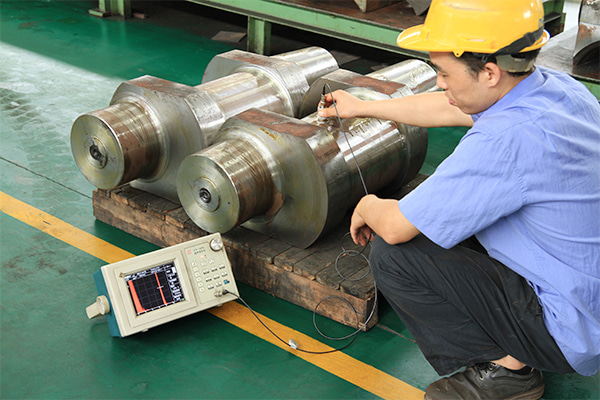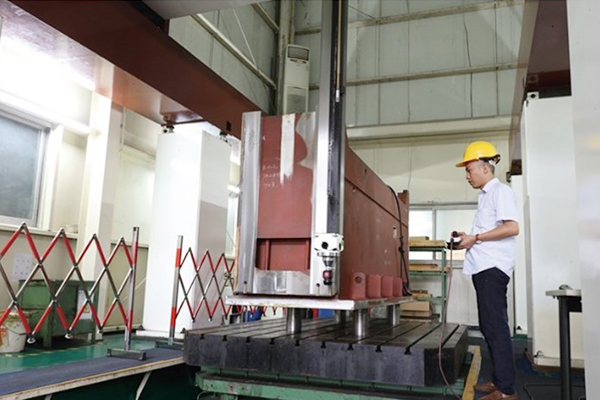 Italy Coordinate Measuring Machine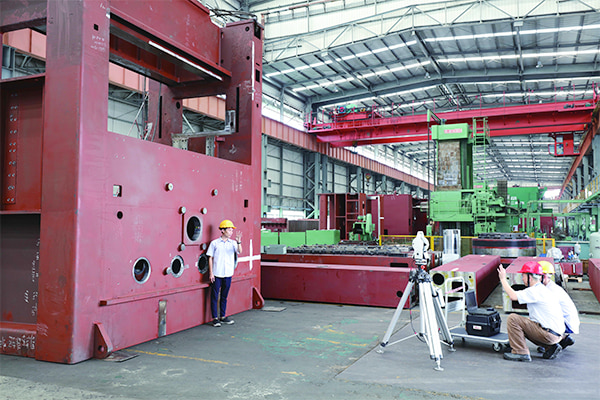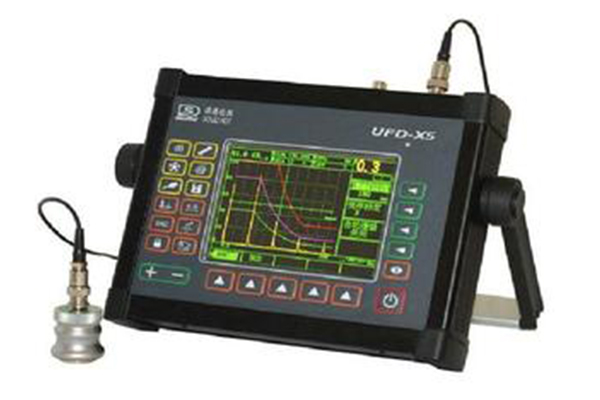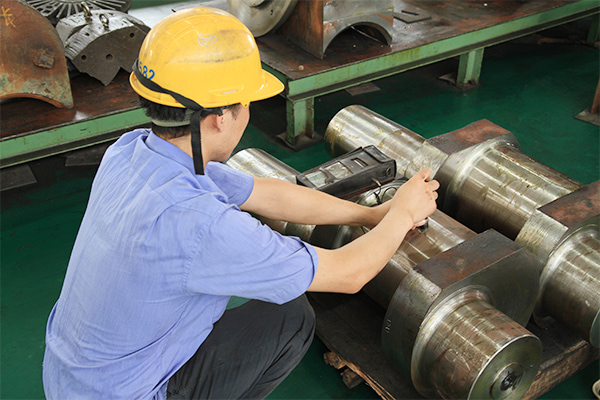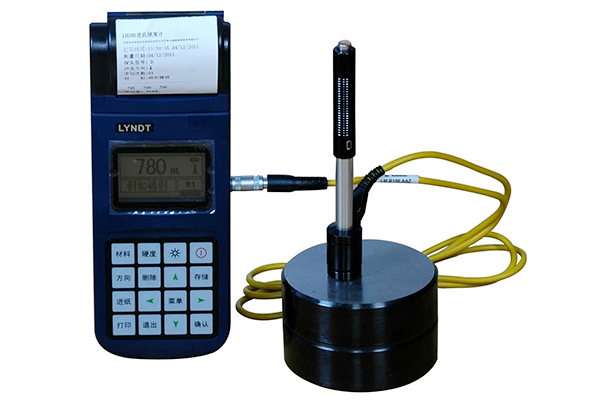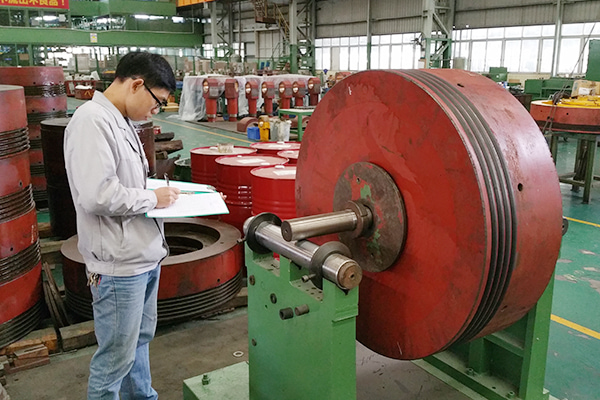 Dynamic Balance Testing, Adjustment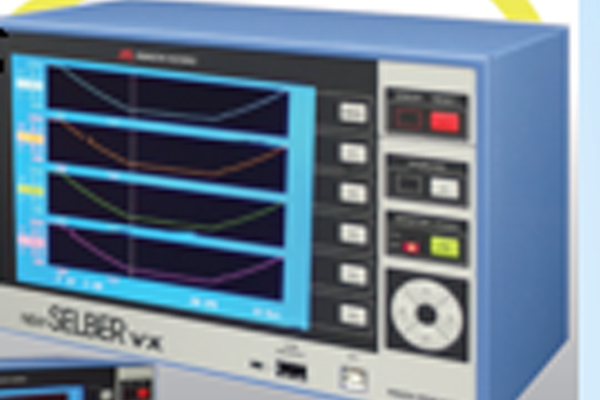 Lower Dead Center Checker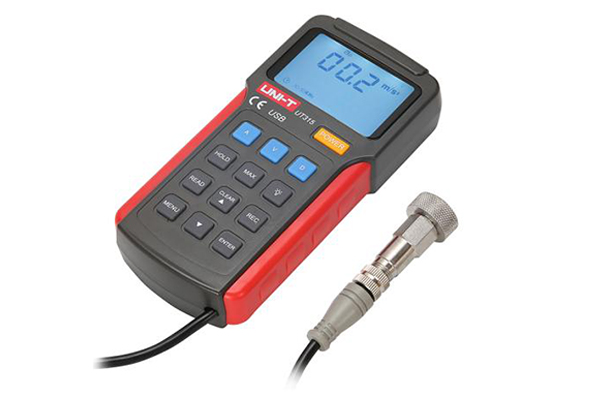 CONTACT US


Guangdong Metal Forming Machine Works Co., Ltd.
We are always providing our customers with reliable products and considerate services.
If you would like to keep touch with us directly, please go to contact us