Hydraulic Press Suppliers Manufacturers: Meeting the Demands of Industry
In the world of manufacturing, hydraulic presses play a crucial role in the production process. These powerful machines are capable of applying tremendous force to compress, shape, and form various materials. From automotive and aerospace to food processing and construction, hydraulic presses are used across a wide range of industries. As such, the demand for high-quality hydraulic presses has led to the rise of numerous hydraulic press suppliers and manufacturers.
Hydraulic press supplier manufacturers specialize in the production of hydraulic presses, which are used for a variety of applications. These machines are used to shape and form metals, plastics, and other materials, providing the necessary force to create a wide range of products. Hydraulic presses are available in a variety of types, including C-frame, H-frame, four-column, and straightening presses, among others.
Guangduan: A Leading Hydraulic Press Manufacturer in Southern China
Hydraulic presses are essential machines in a range of industries that require high-force applications. From metalworking to automotive manufacturing, hydraulic presses play a crucial role in various processes. If you're in the market for a hydraulic press supplier or manufacturer, it's important to find one that can meet your specific needs.
One such manufacturer is Guangduan, a leading supplier of hydraulic presses, mechanical presses, and forging presses based in Southern China. With over 60 years of experience in developing cutting-edge technology in metal stamping, Guangduan has become the largest forging and press machine manufacturer in Southern China.
One of the key features of Guangduan's hydraulic press machines is their high-quality steel welded box structure, which ensures good rigidity, attractive appearance, and easy transportation. The company's mechanical press machines also feature a high-rigidity frame structure and superior-quality steel plates welding process, which eliminates internal stress and improves the stability and reliability of the machine's precision.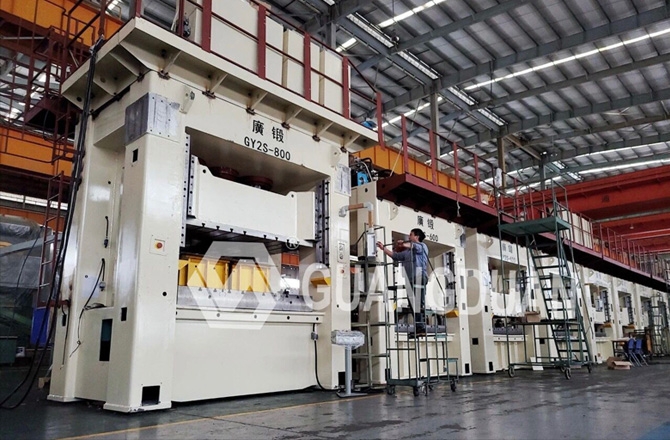 Find the Perfect Hydraulic Press Supplier or Manufacturer for Your Industry Needs
When it comes to industrial machinery, finding the right supplier or manufacturer can make all the difference. For those in need of a hydraulic press, the GY2S series offered by Guangduan is worth considering. The GY2S series hydraulic press boasts a range of features that make it a desirable option for many industries.
The main structural parts of the fuselage adopt high-quality steel welded box structure, which has good rigidity, beautiful appearance and convenient transportation. The slider also adopts steel plate welded box structure. Eight-sided full guide rails are used to provide precision and precision retention. Additionally, the thin oil continuous circulation lubrication system ensures that the machinery runs smoothly and efficiently.
The servo closed-loop control system is another valuable feature of the GY2S series. GY2S series is composed of servo motor driver, pressure sensor displacement sensor and PLC. It has the advantages of high precision, low noise, low vibration, energy saving and environmental protection. It adopts intelligent control and high operability such as servo system, touch screen and grating ruler control mode. Real-time digital adjustments can also be made through the touch screen. The system can store up to 20 sets of mod parameter settings, which provides flexibility and ease of use.
Perhaps one of the most important features of the GY2S series is its safety measures. This machine comes with a slider locking device. Sliders can be locked in any position to prevent accidental sliding. It is also equipped with lower limit switch protection and double-hand anti-repetition protection. Provide multi-level protection such as anti-mistake protection in the touch screen parameter setting.
Guangduan's Cutting-Edge Technology: Setting the Standard in Hydraulic Press Manufacturing
Guangduan, a leading manufacturer of hydraulic presses, has recently introduced the GY2S series of hydraulic presses. These cutting-edge machines are setting a new standard in hydraulic press manufacturing with their advanced technology, high precision, and user-friendly features.
The GY2S series hydraulic press is ideal for a wide range of applications, including metal forming, stamping, forging, and more. Its main structural parts are made of high-quality steel welded box structure, which provides excellent rigidity, a beautiful appearance, and easy transportation.
In terms of safety, the GY2S series hydraulic press is equipped with a slider locking device. Sliders can be locked in any position to prevent accidental sliding. It also has multi-level protection, including lower limit switch protection and double-hand anti-repetition. The touch screen also features anti-error protection in the parameter setting, making it highly secure and reliable.
The GY2S series hydraulic press comes in various models, including GY2S-300, GY2S-400, GY2S-500, GY2S-800, GY2S-1000, GY2S-1250, GY2S-1600, and GY2S-2000, each with varying specifications and capabilities.
Invest in High-Quality Hydraulic Press Machines for Optimal Performance in Your Industry
Guangduan's forging presses are designed to be applied in cold, warm, and hot forging processes in various industries such as automobiles, daily used hardware, instruments, gas appliances, and more. Their unique integral box structure makes them ideal for extreme-demand applications.
In addition to high-quality products, Light End also provides excellent customer service. This is reflected in its team of more than 800 experienced employers, advanced processing and testing equipment, and the principle of serving customers wholeheartedly. As a national high-tech enterprise, it is one of the fifty key press enterprises in Guangdong Province. Guangduan is committed to providing metal stamping solutions and services that satisfy customers.
If you're in search of an ideal mechanical press manufacturer, Guangduan is a reliable choice. Their 60+ years of industrial experience, 30000㎡ facility size, 100+ engineers and technicians, and 200+ production equipment make them a top contender in the industry. So, why not choose a trusted hydraulic press supplier like Guangduan for all your press machine needs?
Conclusion
GUANGDUAN Press Factory's hydraulic presses are used by businesses in the metal stamping industry that need high-quality and efficient machines for their operations. These businesses face problems such as low productivity, high downtime, and low precision. GUANGDUAN's products aim to solve these problems by providing reliable, efficient, and precise machines.
CONTACT US


Guangdong Metal Forming Machine Works Co., Ltd.
We are always providing our customers with reliable products and considerate services.
If you would like to keep touch with us directly, please go to contact us