The World of Mechanical Press Manufacturers: Key Players and Innovations
The manufacturing landscape is constantly evolving, and mechanical presses are no exception. These machines play a pivotal role in shaping and forming metal sheets, forging, and die cutting. As the demand for high-quality and efficient mechanical presses grows, manufacturers are stepping up to meet the challenge. In this blog, we will dive into the world of mechanical press manufacturers, exploring key players, their innovations, and how they are shaping the industry.
Key Players in Mechanical Press Manufacturing: Mechanical Press Manufacturers
1. GuangDuan: GuangDuan is a leading manufacturer of mechanical presses in China. In addition to designing and manufacturing its own products, GuangDuan also makes parts for other brands. The company's expertise includes the design and manufacture of automated press lines as well as high-speed presses used in the manufacturing of car parts and other automotive components.
2. Schuler Group: The Schuler Group is a leading manufacturer of mechanical presses, with a history dating back to 1839. As a global player, Schuler offers a diverse range of products, including single- and double-sided mechanical presses, transfer systems, and press lines. The company has a strong focus on innovation and sustainability, constantly seeking to improve the energy efficiency and lifespan of its products.
3. Komatsu: Japanese manufacturer Komatsu has been at the forefront of mechanical press technology for over 90 years. Known for their commitment to quality and reliability, Komatsu offers a wide range of mechanical presses, including high-speed, high-precision models. Their presses are utilized in various industries, such as automotive, aerospace, and electronics.
4. AIDA: AIDA is a global mechanical press manufacturer with a history spanning over a century. With a strong emphasis on research and development, AIDA has become a pioneer in the industry, introducing groundbreaking technologies like the direct drive servo press. Their products cater to a wide range of industries, including automotive, consumer electronics, and medical equipment.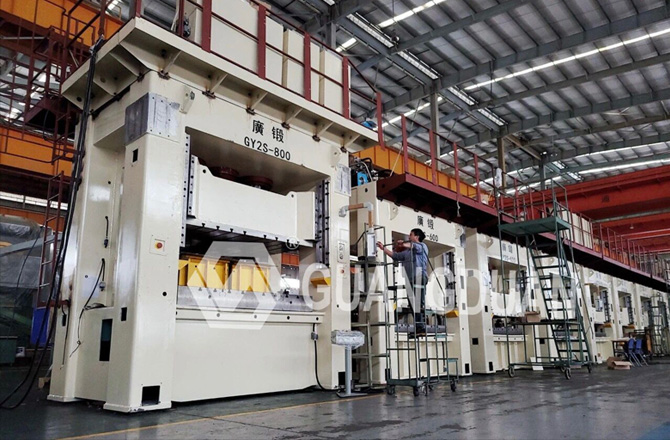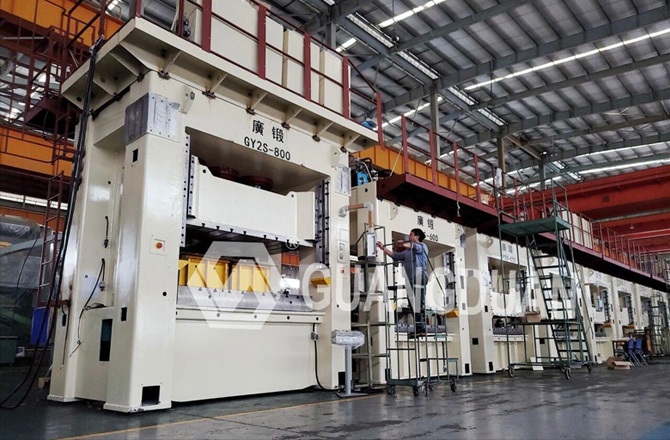 Innovations Shaping the Industry: Mechanical Press Manufacturers
Servo-driven Mechanical Presses: Servo-driven presses have revolutionized the mechanical press industry by offering increased precision, control, and efficiency. These presses use servo motors to control the slide movement, allowing for more precise control of stroke length, speed, and position. This technology has allowed manufacturers to produce complex parts with greater accuracy and reduced energy consumption.
Industry 4.0 Integration: As the manufacturing world embraces Industry 4.0, mechanical press manufacturers are integrating advanced technologies into their products. IoT connectivity, real-time monitoring, and predictive maintenance are some of the features that are being incorporated, resulting in enhanced productivity, reduced downtime, and improved overall efficiency.
Enhanced Safety Features: Manufacturers are prioritizing the safety of machine operators by incorporating advanced safety features in their mechanical presses. Light curtains, safety interlocks, and emergency stop buttons are just a few examples of the measures being taken to protect workers and prevent accidents.
Do You Need New Mechanical Press Manufacturers? Here's How to Choose the Best and Where to Find Them
Choosing the right mechanical press manufacturer can be a daunting task. There are many manufacturers out there, and you may not be sure which one to choose. Here's how to find the best mechanical presses for your business:
Look for companies that specialize in the type of mechanical presses you want. For example, if you're looking for an automatic press, then look for companies that manufacture mechanical presses specifically. If you're looking for any type of press, then look for a company that makes those types of presses as well. This will help ensure they have access to all the parts they need, and they'll be able to get them quickly in case of emergency situations or product failure.
Check out their reviews online. Look at their ratings when comparing prices between different companies on similar products or services so you know who is going to be most reliable over time. You can also check out their social media profiles where customers post their experiences with them so that you know what other people are saying about them too before making your final decision.
Reasons to Choose GuangDuan Mechanical Press Manufacturer Over Others
Guangduan is a leading manufacturer and supplier of all types of Industrial Presses, including Hydraulic Presses and Compressors. We also have an excellent reputation for our high-quality products.
We have a wide range of machinery that can meet your specifications, whether a small manual machine or a large hydraulic press.
Our mechanical presses are made from the best quality materials, and with our in-house engineering team, we can ensure that the finished product meets your exacting standards.
The advantages of choosing GuangDuan Mechanical Press Manufacturer over others are:
1. Guangduan Mechanical Press Manufacturer has the best quality and competitive price.
2. Guangduan Mechanical Press manufacturer is a professional organization, which can provide customers with good service and high-quality products.
3. Guangduan Mechanical Press Manufacturer is a leading enterprise in China, which has been specializing in manufacturing mechanical presses for years and has accumulated rich experience. We supply high-quality products with competitive prices to our customers at the same time we offer you personalized service and prompt delivery as per your requirement, so we are confident that we will be your best supplier in the future!
What Is The Best Mechanical Press Manufacturer For Industrial Use?
The best mechanical press manufacturer for industrial use is one that has been in business for a long time, has a good reputation, and is known to make high-quality products. When you purchase a product from the right company, you can rest assured that it will last for many years and will serve you well.
The best way to find out which company offers high-quality products at reasonable prices is to do some research on the internet. You can look at their website and see what kind of products they offer. You should also read customer reviews on Amazon and other websites where people share their experiences with these companies.
Concluding Remarks
If you have any needs, please contact GuangDuan Mechanical Press. We are a specialized factory that is devoted to the design and manufacture of high-quality mechanical presses. We are able to provide customers with excellent quality products and efficient service.
CONTACT US


Guangdong Metal Forming Machine Works Co., Ltd.
We are always providing our customers with reliable products and considerate services.
If you would like to keep touch with us directly, please go to contact us