Guangdong High Speed Press: Forging Excellence for Over 65 Years
Founded in 1958, Guangdong High Speed Press has emerged as the premier manufacturer of forging and pressing equipment in South China. With a steadfast commitment to innovation, meticulous craftsmanship, and quality service, the company stands as a testament to decades of development and progress in the industry.
1. A Legacy of Innovation and Excellence
Since its inception more than six decades ago, Guangdong High Speed Press has been on a relentless journey of growth and innovation. The company has transformed from a modest beginning into a powerhouse of forging and pressing equipment manufacturing. It is no surprise that it proudly carries the title of the largest manufacturer in South China, solidifying its stature as a national high-tech enterprise and a key player in Guangdong Province's equipment manufacturing landscape.
2. Pioneering Research and Technological Advancements
At the heart of Guangdong High Speed Press's success lies its unwavering commitment to research and development. The company's dedication to technological advancement is evident through the establishment of cutting-edge scientific research institutions, including the "Postdoctoral Research Station," the "Guangdong Forging Equipment Engineering Technology Research and Development Center," and the "Guangdong Key Laboratory of Metal Forming Processing and Forging Equipment Technology." This commitment has resulted in the undertaking of nearly 60 national, provincial, municipal, and district-level science and technology projects.
3. Engineering Excellence and Expertise
With a team of more than 100 engineers and technicians, including 13 senior-level professionals and over 60 engineers, Guangdong High Speed Press possesses a formidable pool of expertise. The company's arsenal of advanced production equipment is equally impressive, boasting a range of precision tools such as floor boring and milling machines, gear grinding machines, crankshaft grinding machines, and CNC equipment. Moreover, the company's investment in over 1,000 sets of advanced measurement and testing equipment, including large three-coordinate systems and laser tracking instruments, has earned them a distinguished second-level measurement qualification.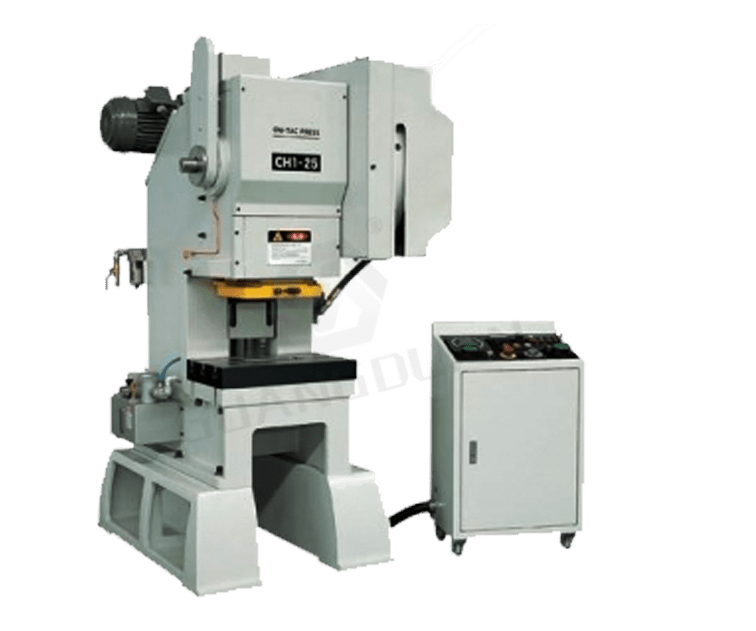 4. A Vision for the Future
Guided by the enterprise tenet of "system management, innovation, elaborate manufacturing, and quality service," Guangdong High Speed Press stands as a beacon of progress in the forging and pressing industry. As it looks toward the future, the company remains steadfast in its commitment to technological innovation and mastery of core forging and pressing equipment technology. This drive towards independent research and development bolsters the forging and pressing industry's growth and bridges the gap between domestic capabilities and international standards. By nurturing international competitiveness and cultivating top-tier brands in the forging and pressing equipment domain, the company aspires to leave an indelible mark on the global market.
5. Unrivaled Infrastructure and Customer Care
Guangdong High Speed Press takes pride in its state-of-the-art processing workshop, sprawling across an impressive 30,000 square meters. Equipped with cranes capable of lifting up to 125 tons, this facility epitomizes the company's commitment to efficient and comprehensive manufacturing. Moreover, the company distinguishes itself with a quick-response after-sales team, ensuring that customers' needs are promptly addressed and resolved.
6. A Trusted Leader with ISO:9001 Certification
As a leader in the forging and pressing industry, Guangdong High Speed Press holds the prestigious ISO:9001 certification. This internationally recognized standard serves as a testament to the company's unwavering dedication to quality, precision, and consistency in its products and services.
Revolutionizing Manufacturing with Guangdong's High-Speed Press: Embracing Industry 4.0
1. Pioneering the Future: Guangdong High Speed Press
The GUANGDUAN High Speed Press stands as a testament to the strides made in the manufacturing industry, boasting cutting-edge technology and exceptional engineering. These presses are designed to handle a diverse range of applications, from metal forming to stamping, with unparalleled speed and precision. With the aim of enhancing efficiency and reducing downtime, these machines are carefully crafted to meet the evolving demands of modern production lines.
2. Embracing Industry 4.0: The Fusion of Automation and Digitalization
In the era of Industry 4.0, the convergence of automation and digitalization has redefined manufacturing. The Guangdong High Speed Press is a prime example of this fusion, as it seamlessly integrates with digital systems to create a harmonious and intelligent production environment. These machines are equipped with advanced sensors, real-time monitoring capabilities, and predictive maintenance features. As a result, manufacturers can make data-driven decisions, optimize production schedules, and preemptively address maintenance needs, thus minimizing downtime and maximizing output.
3. The Path Forward: A New Era of Manufacturing Excellence
The Guangdong High Speed Press is a testament to the transformative power of automation and digital integration in manufacturing. As companies strive to stay competitive in a rapidly changing landscape, embracing Industry 4.0 concepts becomes imperative. These high-speed presses not only boost production capabilities but also pave the way for intelligent, efficient, and adaptable manufacturing processes.
Features that Redefine Manufacturing:
1. Unmatched Precision and Speed:
Guangdong High Speed Press machines are engineered to operate at exceptional speeds while maintaining unparalleled precision. This enables manufacturers to meet tight production deadlines without compromising on the quality of the end product. Whether it's intricate metal parts or complex stamping projects, these presses ensure consistency and accuracy at every step.
2. Seamless Integration:
The integration of these presses into the Industry 4.0 framework allows for seamless communication between various manufacturing components. This interconnectedness enhances the agility of production lines, facilitates quick adjustments, and enables adaptive manufacturing in response to changing demands.
3. Predictive Maintenance:
One of the standout features of the Guangdong High Speed Press is its predictive maintenance capabilities. By continuously monitoring the machine's health and performance, manufacturers can identify potential issues before they escalate into costly breakdowns. This proactive approach extends the lifespan of the machines and minimizes unplanned downtime.
4. Data-Driven Insights:
Data is at the heart of Industry 4.0, and these high-speed presses are no exception. They collect and analyze real-time data from various sensors, providing manufacturers with invaluable insights into production processes. These insights can be used to optimize workflows, identify bottlenecks, and refine overall operational efficiency.
Conclusion
In conclusion, Guangdong High Speed Press stands tall as an industry trailblazer, carving a remarkable journey from its modest beginnings to its current stature as a manufacturing giant in South China. With a rich history of innovation, unwavering dedication to excellence, and a bold vision for the future, the company's impact on the forging and pressing industry is undeniable. Its commitment to research, engineering prowess, and customer-centric approach ensures that it will continue to shape the industry landscape for years to come.
CONTACT US


Guangdong Metal Forming Machine Works Co., Ltd.
We are always providing our customers with reliable products and considerate services.
If you would like to keep touch with us directly, please go to contact us