Mechanical Press Tool Factory: Automation Machines That Improve Productivity
A mechanical press tool factory is a machine that can be used to produce high-quality mechanical presses. Mechanical presses are used in the manufacturing process of various industries, including the automotive industry and aerospace industry. They can also be used for other purposes such as grinding, stamping, and forging metals.
Mechanical press tools are typically used in industries where there is a large demand for precision parts and small quantities at a time such as aerospace manufacturing, automotive manufacturing, medical equipment manufacturing, etc. In fact, most companies today use these types of automated machinery because they allow them to reduce costs by using fewer people while still producing parts on par with those produced by human hands!
Introducing the GuangDuan Mechanical Press Tool Factory
Being a good manufacturer, we pay attention to the quality of our products. We have a strict quality control system, which ensures that all the products are in line with the requirements of the market. Our product range covers various sizes and shapes. It is suitable for small and medium-sized enterprises as well as large-scale factories.
In recent years, we have been focusing on producing high-quality mechanical presses, as well as producing other related products such as high-speed presses. Our products are well known in China and exported to many countries across the globe. We hope that you will be able to join us!
The GuangDuan Mechanical Press Tool Factory is located in Guangdong Province, China. It was founded in 1958 and has been specializing in manufacturing various types of mechanical presses for many decades. Our factory is equipped with advanced equipment and modern technology, which enables us to provide customers with high-quality and durable products. You can rest assured that you are getting exactly what you need when ordering from us!
How To Find A Mechanical Press Tool Factory?
If you want to purchase a mechanical press tool, you will need to consider some factors. First, it is important that you are certain of the quality of the machine and its components. You can do this by asking for references from other customers. If possible, ask about the warranty on your purchase and how long it will last.
Second, when looking for a mechanical press tool, make sure that you are able to get all of the parts from them. This includes any replacement parts or accessories that might be needed in the future. It is also good to know what type of shipping service they offer so that you can choose an appropriate one for your needs.
Finally, when considering where to buy a mechanical press tool from, make sure that you take into account their location as well as the cost of shipping and handling fees before making your final decision. If this is something that has not been considered previously then it may seem like a good deal at first but it may turn out not to be so great after all once everything is added up in terms of cost and convenience.
Mechanical Press Tool Factory: Two-point/Four-point Single Acting Precision Mechanical Press
The GuangDuan mechanical press tool factory is specialized in the production of two-point/four-point single-acting precision mechanical presses. The machine body is manufactured by welding the steel plates and then undergoing high-temperature annealing, resulting in a rigidity that is good and stability of precision. It has self-mowing work tables and dies clamping systems, which enhance die change efficiency.
A precision mechanical press is a tool that is used to produce parts with a high degree of accuracy. The machine uses the force of gravity to drive the die downward onto the workpiece, which ensures that the finished product is as accurate as possible. The hydraulic ram system adopts hydraulic transmission, it can realize the precise adjustment of ram force and automatic adjustment of ram position when working on pressure regulation.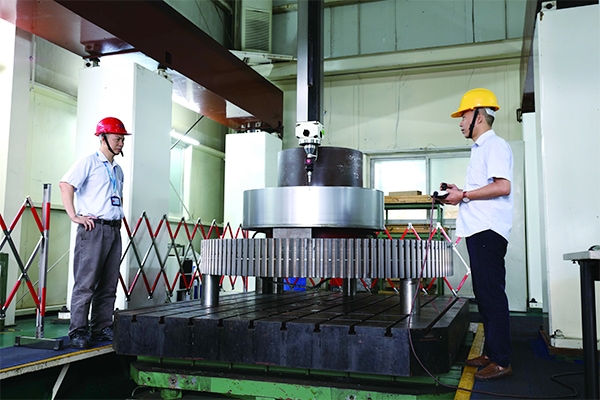 The mechanical press tool factory adopts a high-precision air motor to drive the cutting head, thus ensuring that no vibration occurs during the cutting process. The cutting speed can be adjusted to meet different requirements. The hydraulic cylinder can adjust the pressing force according to different requirements. It also has large displacement, high efficiency, low pollution, and a good heat dissipation effect. It is a good choice for large-volume production.
Why You Should Consider Using GuangDuan Mechanical Press Tool For Your Product?
GuangDuan Mechanical Press Tool is a professional tool for making mechanical products. It is a professional machine used for making products of different sizes, shapes, and materials.
The GuangDuan Mechanical Press Tool can be used to press parts of different shapes and sizes. The machine is also very fast, so it can be used to make many products at the same time.
The GuangDuan Mechanical Press Tool has a strong body with high precision, which makes it more durable than other similar tools. It also has excellent performance and competitive prices, which makes this machine one of the most cost-effective options on the market today!
Best Business Partner: GuangDuan Machine Tool Manufacturing Industry
GuangDuan Machine Tool Manufacturing Industry is one of the best partners that you can choose from. Our products are of high quality and our services are very reliable.
We are committed to providing customers with high-quality products at competitive prices. We welcome new and old customers from all over the world to contact us for more information!
As one of our best partners, we provide you with the following services:
1) Supply and produce machining centers with competitive prices;
2) Designing machining centers according to customers' requirements;
3) Provide technical advice on the production process;
4) Deliver machining centers timely.
Concluding Remarks
Guangduan Mechanical Press Tool Factory has a good reputation in the industry, which makes it attractive to customers both at home and abroad. In recent years, Mechanical Press Tool Factory has been successfully exporting its products to many countries around the world including Japan, Germany, South Korea, and so on.
CONTACT US


Guangdong Metal Forming Machine Works Co., Ltd.
We are always providing our customers with reliable products and considerate services.
If you would like to keep touch with us directly, please go to contact us